Morein B.V. was founded in 1986 in Denekamp (NL/Twente region) and is therefore a pioneer in the
development towards contemporary plastic recycling. At this location we do the washing and
grinding activities with 8 employees and 2 washing lines.
In 2005, Morein GmbH was founded at a new location in Nordhorn (D) to further expand the
recycling activities with regranulation and compounding. In 2021 there are 4 extruders, a
shredder/grinding line and an optical color separator. The workforce has been expanded to 31
employees. The name Morein Plastics originated from these 2 locations. Years of experience have led
to us being perceived as a reputable company with an established name, specialized in the recycling
and supply of reusable raw materials for the plastics processing industry.
Morein Plastics supplies regranulates and compounds with brand name PlastiMore with diverse, but constant qualities, which are
sold throughout Europe. By continuing to invest in modern processing processes, we can supply
customer-specific raw materials suitable for extrusion, injection molding and blow molding processes
and that meet today's quality requirements. If desired, we can manufacture PP compounds in various
colors using an optical color separator technique.
With our own fleet, including bulk trailers, we want to deliver flexibly and according to customer
needs.
Morein does what she stands for and can be described as:
Personal, reliable, flexible, and open minded.
General terms and conditions Morein BV
https://www.morein.nl/wp-content/uploads/2022/01/Algemene-voorwaarden-Morein-BV-3.pdf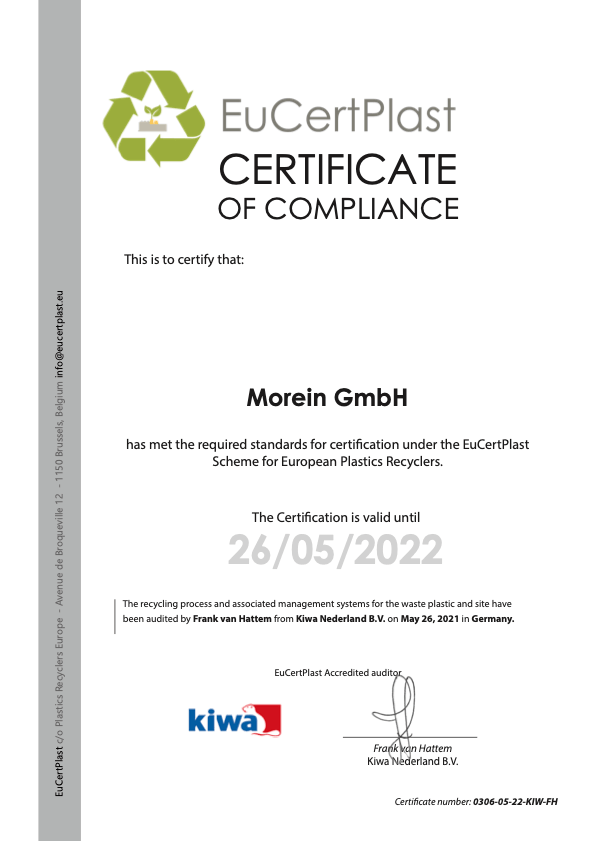 Certificates
Morein Plastics is EuCertplast, TÜV Rheinland and NIWO certified to clarify the quality assurance and
sustainability of the company and thus offer the market a common quality and sustainability
language.